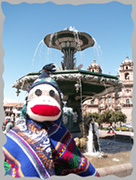 Send in your snaps of your Monkey...in the wild. The best shots may win a prize!
Send your photos to:





Feel free to send me a quick note if you have a question or comment.



If the Monkey you want has been adopted, all is not lost!

Send a quick email and tell Tamara that you want a Monkey just like me!