Dance with me, Mary does.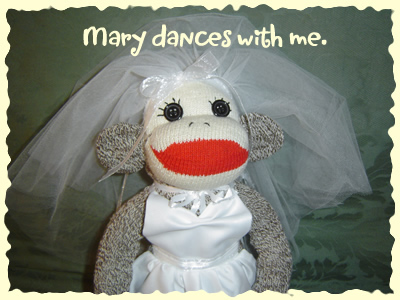 Sock Monkey born October 2004
Sock type: Vintage Rockford red heel sock in size Large (20 inches)
Eyes: Black button eyes with embroidered eyelashes
Nose: Embroidered in black small two hole nose
Mouth: Unembellished smile
Ears: Quilted circular
Tail: Long stuffed tail
Attire: Bridal veil with three layers of tulle and a ribbon bow on top.
Bridal gown in white satin done in apron style with ribbons that tie at back and around neck.
White ribbon bow on neck
Bouquet of silk roses tied to right hand.
Gown and bouquet removable, veil sewn on.