Hiya! I was adopted and named Josie, I love that name. It suits my gypsy nature.
I live with Randy and Melanie in Lake Oswego Oregon.
They are so nice, I have a whole couch to myself most of the day.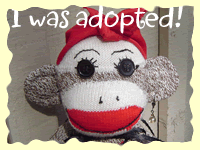 Sock Monkey born August 2004
Sock type: New style Rockford red heel sock in size Medium (19 inches)
Eyes: Black button eyes with embroidered eyelashes and eyebrows
Nose: Embroidered in black small two hole nose
Mouth: Embroidered in black~ full line
Ears: Quilted circular
Tail: Long stuffed tail
Attire: Red head bandana and red black apron. Black ribbon bow around neck and single bead earring in ear.
All pieces removable.